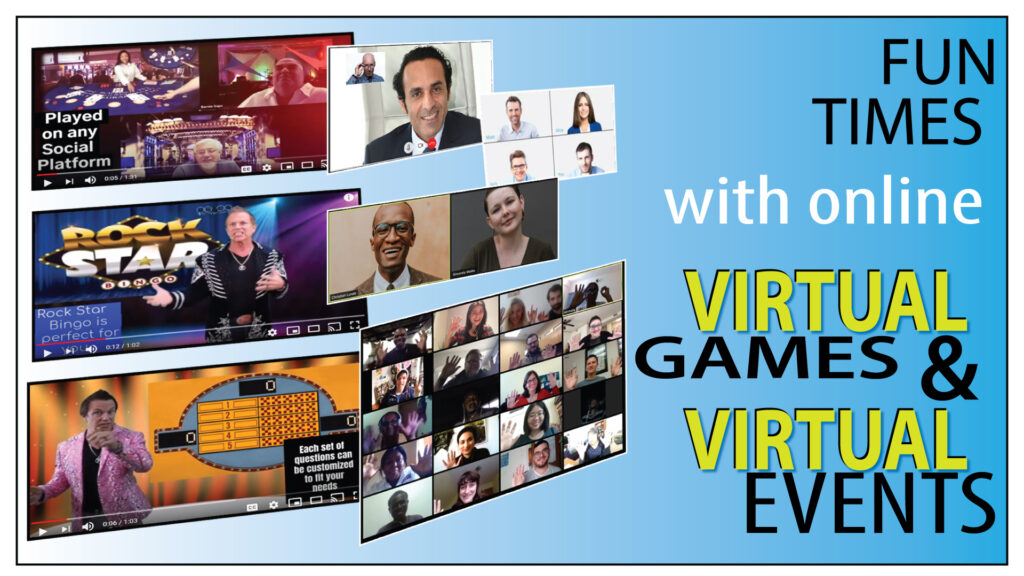 Live Virtual Online Games & Events
Don't let COVID-19 ruin your game night or trivia party. In the wake of the COVID19 pandemic, businesses are creatively adapting their operations and finding new ways to improve the customer experience.
Game nights events and parties usually include live in-person large gatherings with physical board games or handheld cards, but coronavirus has turned our social lives upside down and shifted all of this to Zoom, Google Hangouts, Microsoft Meetings over an internet connection. 
We help you with all of the technical stuff so all of your Virtual Event participants play and have FUN with online games.
Poker, roulette, black jack and craps.
Virtual or Hybrid available.
Our software can run a tournament for you.
Live avatars play your hand for you as you direct them with your moves.
Get your thinking caps ready, these unique challenges will force you to think outside of the box.
Work as a team to solve a series of online logic puzzles.
Can your team set a high score on our leader board?
People know, love and have been playing for years.
We produce a program that is fresh, exciting and creative virtual games.
Looking for a way to provide innovation, creativity and cutting edge technology into a trivia event?
Great way to appeal to venue owners and make your trivia night stand out from the rest. All while hosting a remote event!
Based on the real TV show, 1 person per team will face off virtually to see who gets control of the board first.
The team who gets control can either keep it or pass it.
The team with the most points at the end is the winner.
Custom questions, themes, photos and audio files can be used as well.
Truly a Picture is made up of 100's of Words
Calligram is text arranged in such a way that it forms a  image.
It can be a poem, a phrase, mostly single words.
Photo Mosaic let's your team or event get involved.
Giving your attendees a chance to be involved in something uniquely different and fun.
Have you ever wanted to be a secret agent or hunt down a spy?
'Who Is The Mole' lets you do just that.
Give your team the ultimate test!
How well do they perform when one of them is trying to sabotage their tasks?
Work together, pinpoint the mole, and win!
Learn more about everyone at your company while you play this fun game of bluffing and insight.
Did Tina pet an alligator, go to Spain, or bungee jump?
Can she keep a straight face or can you trip her up with your questions?.
Pinot & Paint Virtual Fun
We help you find the artist inside you regardless of age or skill level.
You will receive your pinot & paint supplies prior to the event.
You will be led by an incredible  Sommelier to take you through the Wine experience and explain about the pairings you can do as well.
Next we will have one of our artists lead you through the painting step by step!
Two teams face off with six categories.
Players guess words or phrases in each category
The team with the most points goes on to play in "the winner's circle".
Drop the ball and win a prize OR play head to head.
BLINKO is like 2 games in 1.
Watch out, those numbers at the bottom keep blinking to different scores.
Virtual Rock Star Package
Tired of having the same meeting and conference over and over?  Ready to step up your virtual events?  We are your go to company.  Call Gary today so we can help you elevate your events.  This is a set of multiple tables. You choose how many tables and what tables you want.
This is the perfect gift for anyone. Can be a take away gift from your virtual event, hand out, or even just a custom gift.
This game is also played with a live dealer and on a social platform. Each player places their bets with a live avatar. Live Dice Shooter then rolls and the game is played.
Played online just like in person. A avatar is live at the table and will message you your hand. You then choose the game play and the avatar moves your hand in the direction you choose.